Welcome!
Going up the winding road to the mountainsides at the Northern part of Sitia district, going through villages built on the edges of mountain chains conquered by the harsh Northern winds, makes you wonder what is the secret of this place endurance.
Bare mountainsides, rocky hills, wild gorges, caves all these features form a landscape where the ground burnt by the sun, the rocks lined by the wind and the rain, the wild and weird colors reflect the light, hurling it back violently like a dazzling flash.
On the Eastern coasts of Crete the predominant Sun, too strong to be ignored will be revealed to you. The power of the sunlight magnifies the visitor's senses.
In the summer hot nights on the beaches of Sitia you are filled up with unknown fragrances and strange noises. Here one has the feeling that this place is meant to receive the experiences of the big blue sea around it.
County of Sitia consists of 4 major regions.
Click on the map or on the left menu for further information.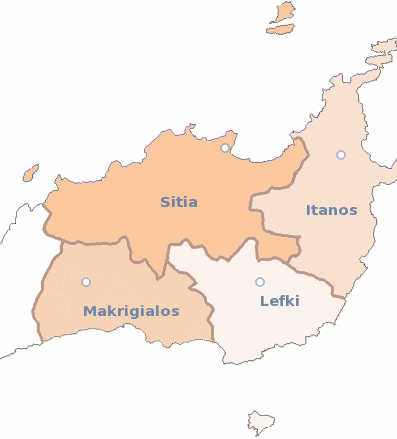 Video Presentation of Sitia County